Bismarck Parking Authority - Galleria

Galleria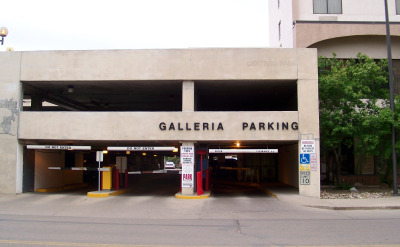 The Galleria parking ramp is located on 7th St. and Broadway Avenue. It is the parking ramp attached to the east side of the Radisson Hotel. The entrance to this ramp is located on Broadway Avenue.
There are 282 parking spaces available at this site. There are six levels with covered/indoor parking. The levels are in alphabetical order with level A being the lowest level to park on. Employees of the Radisson Hotel have access to parking on the roof-top level of this ramp.
Hourly parking is available at the current rate of $1.50 per hour. There are three areas within this location that monthly parking is permitted on. The monthly rent rate is $64.00. At the present, there are no monthly parking spaces available for lease. Anyone interested in being added to the waiting list for parking can call our office or contact us through this website.
© Copyright. All Rights Reserved.