Third & Main
The 3rd and Main Street parking ramp has 450 parking spaces available. This parking ramp has six levels to park. Five of these levels are covered areas and the sixth level is on the roof top. There are 50 Parking spaces reserved for customers paying the hourly rate on the ground level. There are reserved parking spaces in the back lot of BNC for their customers to use. The bank will issue their customers a validation coupon to cover parking expense.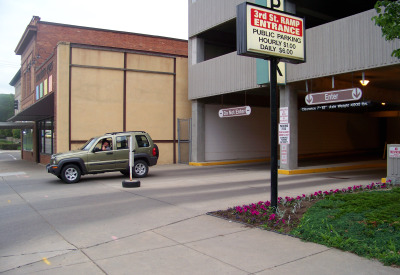 Entry to this parking ramp is from the north bound driving lane on 3rd Street. Turn right to enter the parking ramp. Vehicle clearance height is 7 feet 10 inches. Exiting traffic is merged again into the north bound driving lane with a right-hand turn onto 3rd Street.
There are 12 cameras in the 3rd & Main Street parking ramp recording activity. In addition, all patrol vehicles of the Bismarck Police Department have parking passes allowing convenient access to the ramps any time, day or night.
Hourly Parking Payment Rates:
0:01 to 1 Hour $1.00
1:01 to 2 Hours $2.00
2:01 to 3 Hours $3.00
3:01 to 4 Hours $4.00
4:01 to 5 Hours $5.00
5:01 to 24 Hours $6.00
If the parking booth is not manned when exiting the ramp, deposit your payment and parking ticket in the after-hours drop slot located to the lower left of the cashier's window. Receipts will be mailed if you write down your name and address on the back of your ticket.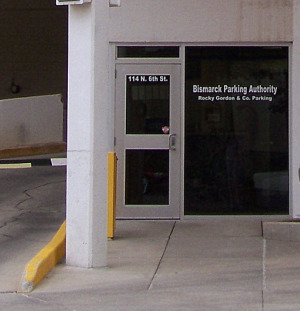 Monthly Rent Rates:
Level 2 - Reserved $69.00
Covered Parking $58.00
Roof-top Parking $34.00
Alley parking $64.00
Nights: 4 PM to 4 AM $22.00
Please visit us at the Parkade office, 114 N. 6th Street, to sign up for monthly parking.